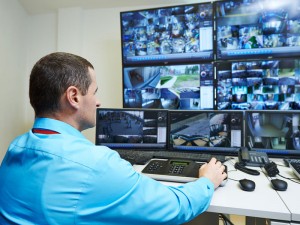 Security cameras are the ultimate home security product. Whether you live in a spacious home or in a gated community, they are designed fit your needs. Video cameras are an advanced addition for your home security system. The most basic security camera system would be a single camera connected directly to a monitor and a recorder to store the video.
There are several different types of security cameras. A few security cameras are black and white security cameras, colored, wireless, and night vision security cameras. Besides differing in function and design, security cameras also vary in price. Some security cameras also allow remote access, therefore allowing access to the monitors through an Internet connection.
Video monitors also come in a variety of sizes. It is best to buy a larger monitor because the smaller ones may be hard to view.
CCTV (Closed Circuit Television) Security Systems is a fast growing segment of the security market. They are a relatively cheap addition home security systems. The security system consists of cctv security cameras, security monitors, sensors and cabling. Wireless cameras provide an extra measure of coverage since they can be positioned anywhere quickly. These are good trends in the security industry.
The advantages to owning a security camera in your home include:
· It has the ability to monitor people in your home.
· It can save you money on your homeowner's insurance.
· It's easy for you to know who is in your home at all times.